An Industry POV
It's good to be in the E&S market right now. Indeed, E&S typically fares well during cycles when the standard market is challenged, and currently, with loss trends, social inflation, high jury verdicts and severe weather events, it's safe to say that the P&C industry has certainly been challenged.
The economic uncertainty stemming from the pandemic has only been a boon to the E&S market, with total surplus lines premiums hitting $41.7 billion for calendar year 2020, a 14.9% increase over 2019. The first six months of 2021 were similar: Surplus lines premiums exceeded $24 billion through the first half of 2021, a 21.9% increase over the same period in 2020. Source: WSIA 2021 Midyear Report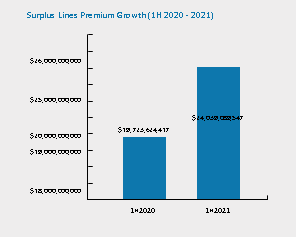 It's a market ripe for new players, and E&S startups are emerging to get in on the action by offering fast-growth coverage lines like residential and commercial construction, excess liability, commercial property, management liability, and cyber liability.